Please note this information is only available in English.
Brückner ONE
Digital Solutions for film production
Brückner ONE is a digital service platform developed to make service communication as efficient and easy as possible. This is achieved by dividing the platform into 4 modules:
DOCUmentation
Spare PARTS
COMmunication
SUPPORT
All modules operate within the digital service platform, which makes the Brückner ONE application your central point of service operations.
Brückner ONE: SUPPORT
Digital service easy and efficient
What if advanced support is available at your fingertips?
For quick and flexible troubleshooting, the Brückner ONE SUPPORT module offers an advanced support handling system for technical service requests regarding electrical, mechanical, and process support. It is also available as an app for mobile devices.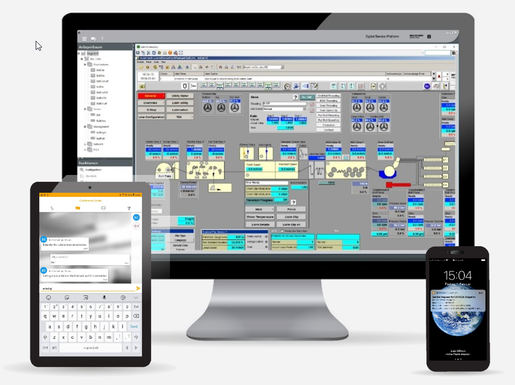 Brückner ONE: COM
Service communication made easy
What if communication is easy and effective?
Brückner ONE COM allows the most flexible interaction between the Brückner service team and the customer: it is a module for quick and easy communication using state-of-the-art tools such as chat, video, and whiteboarding. The customer and the Brückner expert can, for example, work together on a digital whiteboard for clarification of the situation. In addition, Brückner ONE COM supports also the use of video conferences.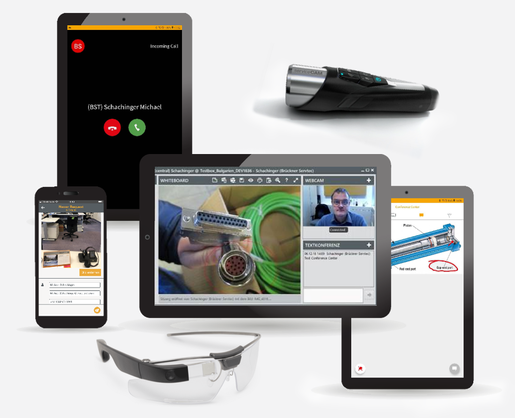 Brückner ONE: PARTS
Spare part service made easy
What if finding the right spare part was a matter of seconds?
The Brückner ONE PARTS module allows rapid and simple identification and inquiry of film stretching line spare parts. Necessary items are easily determined in the online spare parts catalog with their drawing, description, or number, sent to the online basket, and forwarded as an inquiry to Brückner.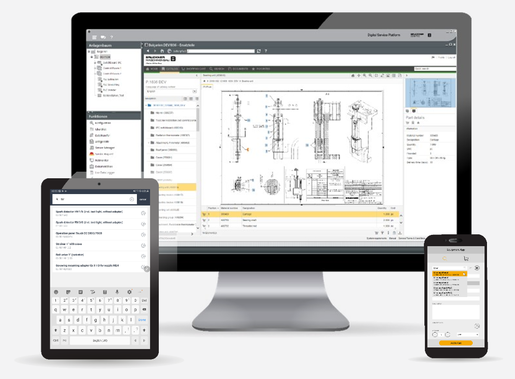 Brückner ONE: DOCU
Easy and convenient access to maintenance instructions
What if your line documentation fits into your phone?
Brückner ONE DOCU provides a paperless and simple-to-use online technical documentation of the film stretching line. The user can access the documentation anywhere and anytime from all devices (desktop and mobile).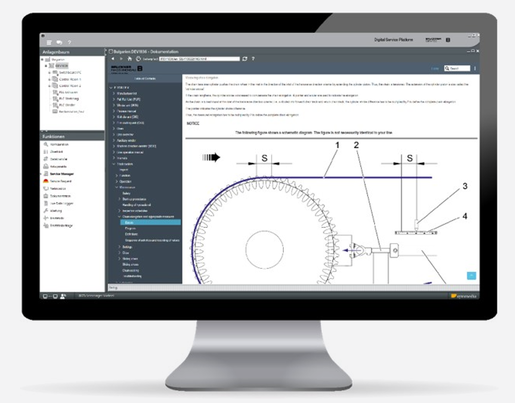 Highlights of
Brückner ONE
In the digital era we are taping the great opportunities to support you with our new digital solutions, giving you access to our services at the fingertip.

The entire Brückner ONE system is unique in the BO-industry: it is a one-stop solution providing a digital service platform supporting all matters of the line and its operation such as service requests, spare parts inquiries, communication and line documentation to make your life easier.
As a single point of contact for the communication of machines, Brückner specialists and film manufacturers, Brückner ONE enables fast, efficient and lean service processes.
Brückner ONE service products open the future for intelligent film production and grant customers comprehensive support for the digital transformation.
1
One Platform for all service needs:
Quick access to all service options
Easy and fast service process
Improve service efficiency
2
Complete Transparency:
Transparent service hours

Check service hours of your current or past service requests quick and simple

Databank of past service requests as reference for future service solutions
Full control of data transparency and remote access by the customer
3
Single Point of Contact:
Easy communication between machines, Brückner specialists and customer
Information at the fingertip 24/7

Everywhere and at all devices (desktop/mobile)
4
Maximum Data Security:
Highest data security for your equipment and know-how
Combination of different security mechanism for ultimate data protection
Awarded with the TÜViT certificate for security qualification according to SEAL-3
Service Agreement Level
Overview
Brückner ONE is integral part of every Service Agreement (Silver, Gold, Platinum). It marks the foundation of future service and ensures you the highest line availability.
Integral part of service agreements
Tailored to match your needs
Ready for future updates
Silver
Brückner ONE Support (incl. App)

Brückner ONE Parts (incl. App)

Brückner ONE Com (incl. App)

Office Hours Support - Discounted rate
Gold
Brückner ONE Support (incl. App)

Brückner ONE Parts (incl. App)

Brückner ONE Com (incl. App)

Office Hours Support - Discounted rate

24/7 Remote Service Online (EOD)
Platinum
Brückner ONE Support (incl. App)

Brückner ONE Parts (incl. App)

Brückner ONE Com (incl. App)

Office Hours Support - Discounted rate

24/7 Remote Service Online (EOD)

Backup Service (line software, once/year)
servtec.packageform.required-fields
*